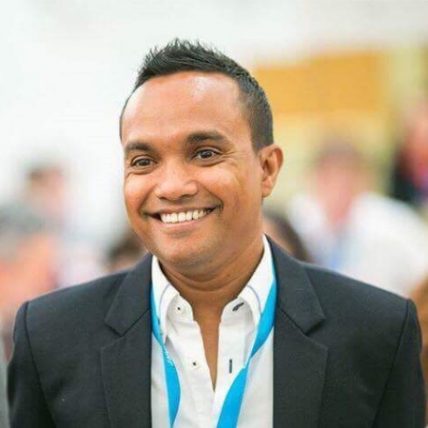 Director of International Sales & Distribution at The Small Maldives Island Co.
Nabeel has been working in tourism sales and marketing with over fourteen years of experience in Sales & Marketing, Distribution, Revenue Management and Strategic Business Development roles. Known by almost everyone in the wider circle of Maldivian tourism and a friend of all the marketers in the industry, Nabeel is often tipped in the industry as the best sales & marketing professional in the country.
Starting his career with Six Senses for Soneva Fushi and Soneva Gili and then joining Per AQUUM at the opening of Huvafen Fushi. After years of island living and working in resort companies Nabeel wanted to learn new tactics of the trade hence joined as the opening Director of Sales & Marketing of then highly anticipated opening of the capital's first international hotel, Holiday Inn Male' (now Hotel Jen). After the successful launch of the IHGs' first hotel in the Maldives, and with a fresh pre-opening experience he then joined to open the flagship resort of Anantara Group, the Anantara Kihavah Villas Maldives in Baa Atoll where he was responsible to launch and establish the resort in key international markets.
Nabeel is currently spearheading the sales and distribution division for two new luxury resorts in Baa Atoll, Amilla Fushi and Finolhu, locally owned and expat managed. He is one of the founding members of the development and management committee and continues to carry the national flag representing this two homegrown, world-class resort concepts to the international market.
How did you get started with your career?
I started my journey in hospitality sector at an early age working in various front office jobs at resorts and then in Reservations Department finally moving to Sales & Marketing where I am cemented in for past fourteen years.
What are some of your notable successes?
Being part of the successful homegrown brands Amilla Fushi and Finolhu, since the beginning, launching to the international markets and taking a top position in the Maldives ever-changing luxury boutique resort segment is a success story I continue to write.
Having had the opportunity to be part of Soneva team during the early days of the successful Soneva Fushi and then Soneva Gili (now Gililankanfushi) is a time I value, mostly for the exposure.
Being part of the opening team of the most successful homegrown local brand name "Huvafen Fushi" working to make it a world-class success story both in brand equity and financial success is a huge achievement for me. Also being the opening Director of Sales for Maldives first ever city hotel (then Holiday Inn Male') and successfully launching it to the market is a stint to remember, successfully strategizing sales & marketing in key markets during the opening of Anantara Kihavah Villas that continue to maintain in Maldives top resorts, is a great story in my career. With this and my experience with IGH, I have been dubbed as the first Maldivian to the take-up the top position in the Sales & Marketing for international hotel brands.
What are some of the challenges that you have faced?
In work and in life there are challenges but I do not remember any specific challenge I faced that I would not overcome.
What is your advice for young adults interested in entering the Tourism Industry?
The secret is self-discipline – it is singularly the most important attribute needed to achieve any type of excellence, be it personal or professional.
---